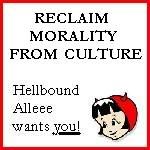 One claim often made by relativists is that without a device to precisely measure morality, we cannot say that morality is based on facts.

I challenge relativists to go to a deserted island where there are no metre sticks, litre bottles, clocks, thermometers, pH meters or altimiters and tell me that measurements of length, volume, time, temperature, water acidity and altitude cease to be based on facts. All aspects of reality exist as facts. Morality is no exception.


Please note: I am NOT saying that we have no way of determining morality from immorality. That issue is separate from the above stated relativist claim, and thus is saved for another post.