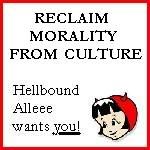 All relativists are hereby challenged to respond to this thread stating that every action that any person has ever taken was moral. Since relativists define morality by culture, they have NO RIGHT to condemn Gestapo death squads, Islamic terrorists, or even Charlie Manson for doing whatever deeds they deem to be moral.


Who is willing to defend nazi prison camps as a part of twentieth century German culture?

Are you going to stand up for the members of the Ku Klux Klan who killed blacks in the name of their white culture?

I want someone to write a comment defending the parents who sexually, emotionally and physically abuse their children, because parental culture is just as valid as any other.

Atheists, are you going to stand by and tell me that its moral for Christians to kill you, just because murder is a part of their culture?


Go ahead, I dare you!